What does the training of a rehabilitation assistance dog involve?
The future rehabilitation assistance dogs are selected for the job while they are still puppies. Throughout their development, the puppies are closely observed in order to identify their strengths and weaknesses and thus prepare them for their future tasks during the later stages of training. In some rare cases, it may also be necessary to acquire an adult dog for the training if there is no puppy available that fits the medical condition of the patient.
When they are around 10 weeks old, the puppies go to live with a foster family where they grow up in a loving environment and are prepared for their role as rehabilitation assistance dogs. After the foster period, the dogs are then specially coached by a trainer in accordance with the needs of the future owner. The training ends after around two years with a final training period in which the dog is integrated into its new family while at the same time the family is taught how to work with the rehabilitation assistance dog.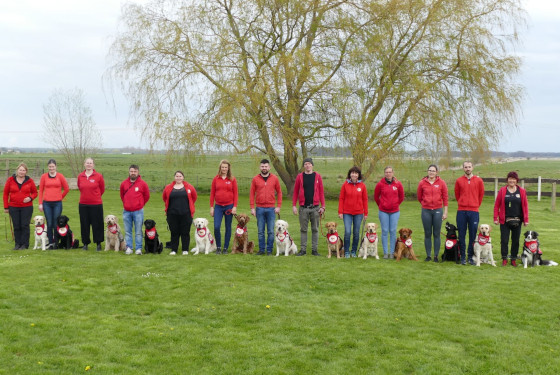 A wide range of fields of work
There are many areas in which a rehabilitation assistance dog can provide a valuable service. The association trains dogs in the following fields:
Assistance dogs
Assistance dogs help to compensate for disabilities. They support people in their daily lives and take over tasks such as opening the door, picking up fallen objects and fetching the telephone.


Therapy dogs
Therapy dogs are used for home help or as part of specific animal-assisted medical treatment, for example physiotherapy, occupational therapy and curative education. They promote self-esteem, increase bodily and sensory perception and help their owner to relax.


PTSD service dogs for soldiers and veterans
PTSD service dogs are used to help soldiers and veterans with post-traumatic stress disorder (PTSD). They respond to the person's increased desire for safety and create physical barriers in public. Thanks to its presence and attentiveness, the dog provides its owner with a sense of security.


Autism support dogs
Autism support dogs are most commonly used in families with children. They help them to take part in activities away from their familiar surroundings and provide a sense of protection and safety, thus allowing the family to live a normal everyday life.


School dogs
School dogs are used in schools as part of the teaching process. The presence of the school dog helps to support pupils individually and to achieve more effective work in the classroom community.

How animonda helps
An individual training programme is drawn up for each rehabilitation assistance dog. In most cases, the costs of the training amount to a five-figure sum, which is not covered by statutory health insurance. Many people and especially families cannot afford to pay these costs on their own.
To allow more people in need to enjoy the benefits of a rehabilitation assistance dog, animonda has been supporting the Reha-Assistenzhunde Deutschland e.v. since December 2022 by funding the training of one dog per year. We find the commitment of this association very moving and are delighted to be able to support its outstanding work.