Canine Freestyle – Dancing with dogs
Canine Freestyle is a dog sport that is suitable for everyone. It consists of a series of heelwork routines and dog tricks that are choreographed to music for the dog and its owner. It is all about having fun and being creative.
What is Canine Freestyle?
Canine Freestyle has its origins in the USA and is derived from the dog sport "obedience". It involves the precise but at the same time joyful performance of set exercises. Canine Freestyle has its own rules, guidelines and judging criteria. However, first and foremost it is all about having fun with your dog. It is basically a matter of gradually teaching the dog tricks that are combined with specific footwork. The crowning achievement is ultimately when a dance routine emerges that is choreographed to music. Many dance routines tell a story, similar to a musical or a play. The results can often be experienced at dog shows. Here, the best show off their skills and are met with enthusiastic applause from the audience.
What are the requirements for Canine Freestyle?
The beauty of Canine Freestyle is that it can be enjoyed anywhere and at any time of year. Also, you do not need any sports equipment. So you can start whenever you want – provided your dog is physically fit. There are, however, a few prerequisites: these include, above all, the enjoyment of shared activity with the dog. Bring along a sense of fun together with plenty of motivation and creativity. Infect your pet with your enthusiasm so that it will also enjoy this dog sport. Canine Freestyle is perfect for keeping your pet mentally and physically fit. It is an advantage if your dog likes treats. Many dogs will do almost anything to get one. It would also be very helpful if your pet has already learned to work with a dog clicker. Here you have the advantage that instead of having to constantly look for treats, you can click briefly for every desired behaviour. Each click is immediately followed by a reward. Whenever you want to delay the reward, you can wait to use the clicker until the sequence has been successfully completed. Canine Freestyle does, however, work just as well without a dog clicker when you are getting started.
How can we get started with Canine Freestyle?
The objective is to perform a dance to the music together with your dog. To do this, various routines and tricks first have to be rehearsed. Your dog may already know a few of these. This could include, for example, "give paw!" or "beg!". Even basic commands such as "come!" and "heel!" are very beneficial if you want to practise Canine Freestyle. Just start training a little more with your dog spread out over the day. In this way, you can work on basic obedience at the same time. There should never be any pressure. Instead, positive reinforcement can be achieved in the form of treats and words of praise.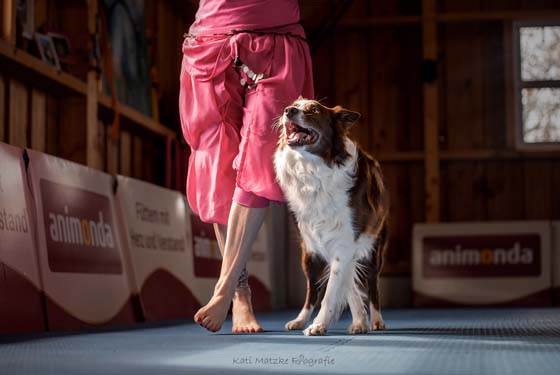 What kind of tricks are there in Canine Freestyle?
If you have ever watched a professional dog dancer, you will have trouble remembering all the tricks you have seen. This is because there are so many of them. They include relatively simple ones associated with commands such as "beg!", "heel!", "give paw!" and "weave!" (through your legs), but also more challenging ones such as "high five!", "bow!", "jump!" (through your arms), "back!" (walking backwards) and "spin!". You are free to be as creative as you like. To help you get off to an easy start, you can simply practise and improve the tricks that suit your dog best.
How can we learn "leg weaving"?
A really impressive trick that is not that difficult to learn is "leg weaving". For your dog, mastering a specific trick is all about learning new concepts and working out how to achieve the desired objective. As with many other exercises, hand targeting or a target stick will provide useful guidance for your dog.
Get your dog to heel to your right. Take a long step forward with your left leg. Now lure your dog through your legs with your left hand or with the target stick held in this hand. While your pet is passing through, always praise it. As soon as it is heeling to your left, reward it with a treat. Now repeat the whole process on the other side. As soon as you have mastered these moves, add more and more steps before the stage where your dog gets a reward. Your pet should, however, have already become very proficient before you stop rewarding every individual step. After a while, the individual steps can be made faster. Should your dog be apprehensive about walking through your legs, you can encourage it by holding a treat in your hand.
How long should a training session last?
Canine Freestyle can sometimes be rather strenuous for a pet that is not used to regular training. This is even more true if it is still a puppy or a young dog. These only have a very short span of attention. You should therefore spend only a few minutes on each activity before taking a break of around two to three minutes. Dogs can be very different in this respect. Some enjoy it so much that they cannot get enough and remain highly alert, while others require longer breaks. Never force your dog to do anything, as this could stop it enjoying the sport. Canine Freestyle should be fun for both the dog and its owner. It is therefore best to start a session with tricks that the dog has already mastered. Then your pet will be able to proudly present its skills. From this point on, it is possible to take the demands to a higher level. The final result should always be a sense of achievement and not frustration because a particular sequence did not work out.
Rehearsing a dance routine
Decide for yourself when the time has come to work on a full dance routine. If you are aiming to give a professional performance, make sure that your narrative and concept are coherent. The music and the choreography should fit together perfectly. Pick a suitable song and then think about which tricks could work well with specific passages. It can take a long time to master a dance routine. For a dog, this requires an extended period of uninterrupted concentration. But do not let this put you off. Just have fun and do not place excessive demands on your dog and yourself. It should be an enjoyable experience for both of you at all times.