Social commitment
Our four-legged friends make the world a better place. As a pet food manufacturer, we feel it is especially important for us to make a positive contribution to animal welfare and to support people and associations who are dedicated to this every day. That is why we have, for many years, been supporting the Hanover animal shelter with food donations for cats and dogs.
At the Hanover animal shelter, homeless animals find a temporary place to live. The animals are looked after by 29 fully trained animal carers before they move into their new homes. You can find more information about the Hanover animal shelter here.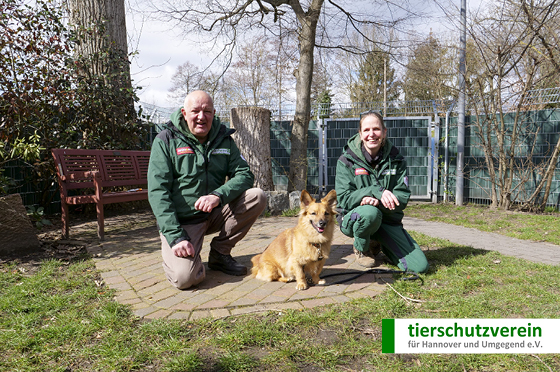 Working together with the Paw Paradise for more animal welfare
Since September 2021, animonda has been supporting the charity SOS Pfotenparadies: the all-volunteer organisation helps, among other good causes, pet food banks, the homeless, and animal shelters.
The flood disaster in the summer of 2021 caused enormous devastation in Germany. Not only many people, but also numerous animals have been affected by the disaster and are in need of help. We were able to support the SOS Pfotenparadies team with considerable relief supplies for the affected areas – over 30 pallets of pet food were donated to animal shelters and food banks via the organisation. Some animal shelters were severely affected, which is why animonda is committed to continuing to support the reconstruction efforts with aid deliveries.
We help animals in need – food donation campaign with feedadog & feedacat
Not all cats and dogs are lucky enough to be part of a loving family that looks after them. Many animals are currently living in shelters or even on the streets and are dependent on help. Not all of us can help personally, so the apps feedadog and feedacat have been created as a way for every animal lover to lend a helping hand. The apps support animal welfare groups in Germany and Europe with food donations. With just one click and a donation of €1 a day, users of the app can provide pet food and cat litter for cats and dogs in need and also adopt animals on a long-term basis.
Because animal welfare is a matter close to our hearts, we too have used this opportunity to help. To reach as many people as possible, we launched campaigns on Facebook and Instagram as well as newsletters and have been able to reach a total of 413,801 animal lovers. Thanks to the high level of awareness achieved, we have been able to obtain numerous new donations for dogs and cats in need. In order to help as many animals as possible, animonda doubled the donations collected: together we were able to fill 47,349 food bowls via the feedadog and feedacat apps.
We are delighted that we have been able to reach so many of you and provide so much food for so many animals with this campaign. The tragic situation in Ukraine has left many more animals in desperate need of help. Polish animal welfare groups are now helping to provide for these animals, and these groups need all the support they can get.
Reha-Assistenzhunde Deutschland e.v.
Der gemeinnützige Verein bildet Reha-Assistenzhunde für Menschen mit einer körperlichen oder geistigen Einschränkung aus. Für betroffenen Menschen ist der Reha-Assistenzhund eine wichtige Stütze im Alltag und verhilft ihnen Schritt für Schritt zu einem selbstbestimmten und unabhängigen Leben.
Ob als Assistenzhund, Therapiehund oder Autismusbegleithund: Reha-Assistenzhunde können für unterschiedliche Krankheitsbilder eingesetzt werden. Die Ausbildung eines Reha-Assistenzhundes ist mit hohen Kosten verbunden, die viele Betroffene allein nicht aufbringen können. Daher unterstützt animonda seit Ende 2022 den Verein mit einer jährlichen Spende.